Businesses in India, right from their inception, are governed by a plethora of statutes. Any disregard for statutory compliance, at either the Central or State, could be a show stopper and could result in irreparable damage to the business, in terms of fines and may also lead to shut down.
Statutory compliance services need to be addressed with a structured approach and should be seen as a cost of doing business as a business compliant with all statutes always generates a great amount of goodwill, which results in growth and visibility in the market.
Choosing the right compliance service provider is of paramount importance to your business as your service provider ensures that systematic compliance for your enterprise is in place.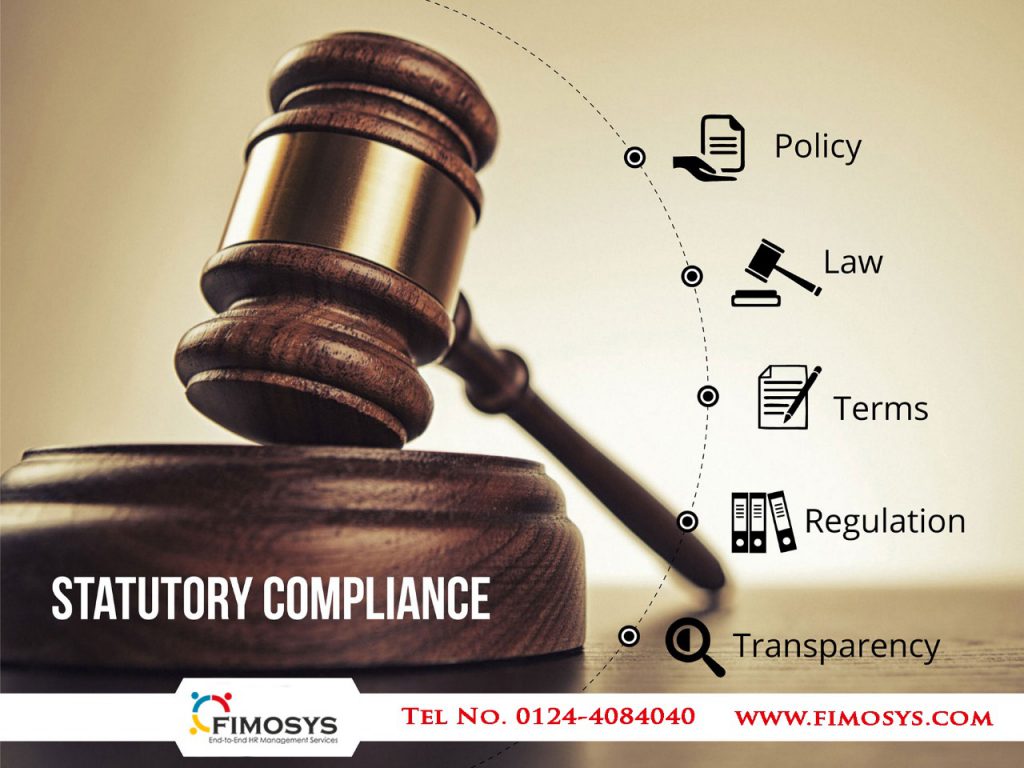 Fimosys's Statutory Compliance Services
With its huge expertise in compliance services, Fimosys is prepared to require over and manage all of your compliance needs so you'll specialize in your core business activities. As a part of our compliance services, We have a tendency to handle payroll compliance consisting of Provident Fund management, ESIC management, professional tax management, and Labor Welfare Fund Management. Underneath labour compliance, we have a tendency to make sure that you meet all the necessities of shops Act.
With strict ethics and ethical standards that Fimosys implement altogether operations, We have a tendency to guarantee government rules and regulations as a part of our statutory compliance services. Our employees are trained to grasp compliance needs.
We've fully fledged auditors who not only audit our task however additionally keep themselves updated with the laws and rules and regulations. We have a tendency to conduct regular internal coaching to our employees on compliance services and laws.
 Highlights of our Statutory Compliance Services
Gap Analysis & Advanced Solution, Compliance Audit Current Status
End-to-End Compliance Management – includes accountability on closures
Registrations, Renewals, Record Maintenance
A digital form of Register Maintenance
Assistance in Inspection Handling
Liasoning with Authorities
Release of Updates on a timely basis
Handling Remittances & Form Submissions
Advantages of Statutory Compliance Services
Commitment to Timelines
Excellent rapport with all local state authorities
Adherence to labor law related statutes
Centralized Maintenance of Accurate Records
Ethical Practices, Sound Corporate Governance
Reduced litigation and associated incidental costs
Some of the other benefits of our Statutory Compliance Services are as follows:
Streamlining business payroll and statutory compliance processes
Adherence to statutory and compliance needs
Complete help of the whole lifecycle of an employee
Low risk of legal penalties and loss
Error-free reports and documentation
Less investment in IT infrastructure
Cost effective resolution
Speedy resolution of employee problems
Fast turnaround of the organization
Aids to focus a lot of on core business activities
Why settle on Fimosys for the growth of your organization?
If you're searching for reliable compliance services, Fimosys ensures error-free quality compliance services in this domain. From staying compliant to statutory norms, managing end-to-end compliance procedure to liasoning with authorities, Fimosys ensures that the organization goes through an efficient compliance process and maintains correspondence to each statutory norm.
We perceive the actual fact that effective statutory compliance services will function as a catalyst for your organization. Additionally maintaining adherence to laws will save a business from any kind of legal penalties. The in-depth range of services offered by Fimosys lets a business enjoy timely and correct compliance process alongside staying grievance to any or all aspects of statues and labor laws. Regardless of the scale and the domain of the business, Our business-specific solutions will address all payroll management and statutory compliance issues seamlessly.
We beware of all statutory compliance of our consumers on day to day basis. So consumer will save their time from statutory compliance's activities and can specialize in their core activities. Underneath this class. We offer services relating to TDS Compliance's, GST Compliance's, Preparation and filing of income tax returns of all sort of assesses, PF/ESIC Compliance's, Labour Welfare Fund, Compliances under shops and establishments Act, etc.
.
Take benefits of our end to end recruitment for small businesses at affordable prices.